The year is 2020
. Question. What makes for the perfect daily driver? What about lightweight and sleek? To optimize energy efficiency (range). To sneak through traffic, find a parking spot others can't squeeze into. A head turner, capable of carrying three, safe beyond today's standards. With superb visibility for you to let the
automobile
take control, yet offering so much driver fun that 'manual override'
**
makes perfect sense too.
Energy-efficient: a matter of sleek and light
To be able to create a low drag shape, which requires a tapered rear end rather than a hatched back, and to improve impact safety, passengers don't sit next to each other. New iSetta has a cigar-like frame. The old Romans already knew that arches make for a highly stress-resistant construction. Lighter materials can be used.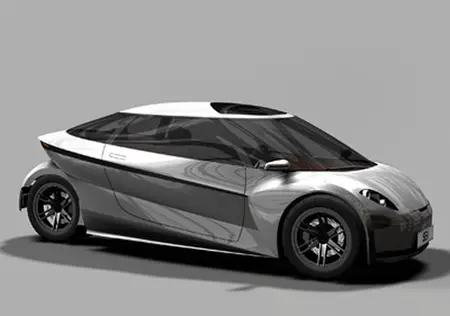 Despite its limited width there is enough safety margin in the flanks, due to its unusual Smart For Three layout. Also, heads cannot bump onto each other when New Isetta is broadsided. Frontal collisions
usually take place with the two vehicles hitting each other off center. That is why the driver is
seated to the right
where people drive on the right side of the road, and
to the left
where people drive on the left side. Plenty space between the front and the passenger who is positioned further back. The ram-like rear bumper, that runs flush with the rear cowling, actually "uses" (invades) the front crumple zone of the vehicle that
slams onto New iSetta's rear end
. Simply physics.
Ever hit a tree or traffic pole?
Unparalleled driver visibility since there is no passenger to block the driver's view, plus the tapered 'canopy' ensures a perfect view to the rear. The driver can maintain eye contact with the passengers via the interior mirror. No need to turn his/her head.
The passenger layout also ensures plenty of legroom. The rear twin wheels assembly, extended beyond the actual body, allows for an unusually long wheelbase, which in turn provides a smooth ride.
Split-lane use
More space-efficient use of the infrastructure is a nice bonus. Governments will love the prospect of having freeways (and parking spaces) used more efficiently. Lane assist / auto-pilot (with front-collision avoidance) help the driver maintain position in a brick-like formation. Enough driver aids for you to lend your New Isetta to another person, for instance in a car- or ride-sharing program.
Bankable
Beyond the Google car. Now we're on the subject of driver aids, why not have both? Make use of driverless
*
or enjoy 'manual mode'.
There is a difference between convenient and the sheer joy of handling the controls yourself. It's why we game. No fun in having the computer play itself.
And New Isetta offers whole new levels of excitement. How's that? Well, a narrow track relative to an extended wheelbase is the best excuse to have ourselves a genuine 'tilter', a vehicle that will actually need to
bank during cornering
, to prevent tipping over or side-sweeping of the rear end - a bit like a motorcycle. It will be a hoot to take it through the twisties. There are more aspects to consider.
**
New iSetta goes a long way towards traffic pictured in 'Minority Report' - see below.
Huge market
Think out of the box. I mean that literally: lose the auto industry's conventional car box and rectangular platform, and you end up with a form-follows-function treasure trove, offsetting any drawback similar-sized cars have and bringing whole new benefits. New Isetta completely goes around the idea of yet another small car. People don't like the idea of buying something small (i.e. derived from something bigger). So, bring something else, something 'in between' - a Best of Both Worlds: the efficiency, flexibility and maneuverability of a motor scooter and the comfort and safety of an automobile. A bit like what Apple did:
it fused two existing products (cellphone and internet) together into a designer wanna-have that opened up a whole new market.
New Isetta targets the fast-growing groups of singles, couples and one-child households (China), particularly in an urban environment. A huge market, not yet targeted as such. If more capacity is needed (when is that - usually the driver is the only occupant ***), borrow or rent a van.
Food for thought
. Anything that says 'Silicon Valley' or 'Bay Area' is being hyped into multi-billion dollar ventures. There comes a time that the stock market/investors will realize that
as long as we cannot "beam me up, Scotty" from A to B
, groundbreaking new personal transport modes can be "the next big thing" (too). Simply because cars still represent the biggest single purchase and expense most people do. Besides, a modern 'connected' car, robotized or not, is a bit like Detroit and Silicon Valley decided to join hands. Now it's just a matter of what Steve Jobs called: b
uilt something better that no competitor has got
.
****
@

Auctor intellectualis (and IP holder) was involved with the scientific study on car mobility (ISBN-13: 978-90-442-0015-7) in the Netherlands (one of the most densely populated countries in the world) which was held under the auspices of the NWO, the Netherlands Organization for Scientific Research. NB: this presentation is put together for assessment and publicity purposes only. Unauthorized use forbidden. The New Isetta aka Smart ForThree is not an open source project, and formally OHIM registered. It also received recognition by a jury of distinguished automotive experts at NAIAS. If in doubt about the semantics of what is "authorized" (literally: of, by or from the author) and what is not (presenting or using what has been created by someone else as if it were yours) consult a legal expert. Or ask for my "Do-claimer". Further read: Three-wheelers - been there, done that? By the way, New iSetta can be engineered to hold two clustered rear-wheels or one rear-wheel.



*

Why do you think that Google's self-driving car turned out that modestly sized? When the driver has a feel for a car's compact outer dimensions, as opposed to driving a big SUV, he/she will feel more at ease when the auto-pilot is switched on.
There's less surface area, less risk to run into other road users, and vice versa.
Google's concept of automated personal transport would not have to culminate into a bland-looking vehicle (although I do realize that the car shown to the press is meant to run tests with). It can form the basis of an exciting Next-Gen
auto-mobile
: u
tilitarian enough to want to share, wanna-have enough to get one yourself.
The first is where Google/Uber is heading, the second is what the car industry is all about.
Many still look at the automobile as the thing they want to own, pamper, show off, have fun with, etc.

** Why should a computer have all the fun? ExtremeTech.com came up with a few other reasons for a manual override. "Removing everything except for a stop-go button might sound like a good idea, but it's naive. How do you move the car a few feet, so someone can get out, or for backing up to a trailer? Will Google's software allow for temporary double parking, go off-road for a concert or party? How will these cars handle the very "human" problems of giving way for other cars and pedestrians? Can you program the car to give way to a hot girl, but not an angry-looking trucker?"
***
Beyond Tesla too. A car
that weighs 25-30 times more than the average driver (usually the only occupant), electric or not, may not be the definitive answer. Practically all resources, incl. energy, go into moving around the 'device' that is supposed to transport us...
'
Dotcommers' make us think that progress is about the latest handy, convenient, gadgety things, apps, etc. that each cry for our attention. It's almost the opposite, progress is about making a difference, meaningful technology that solves problems and brings tangible benefits that people are prepared to pay for, not create solutions where we didn't experience problems in the first place. Elon Musk sees his Tesla's as big electric appliances. If propelled electrically, New Isetta may be the first EV by an OEM outside the traditional auto industry, a major electronics or appliance producer for instance.
****
The very concept of New iSetta challenges to do things differently - to increase efficiency, reduce costs, use new materials, etc. Supply chain and assembly may be streamlined, with suppliers even more in a co-maker role. The front looks are kept 'neutral' so brands may envisage their own trademark frontal designs. Front and rear sections, containing the front and tail lights, can be swapped for easy repair, a partial makeover or to create a different brand look. New iSetta has a (chocolate Easter) egg-like body: a lower 'skirted' half containing all hardware, which is easily accessible because of the curved upper half with its small roof section. The choice is between having twin-wheels in the rear (preferred for various reasons) or one single fat wheel (simpler to engineer), very much like motorcycle cruisers feature.
There is more to the way New iSetta is configured and designed that has not been mentioned here.